Home
> Tournament Details
Tournament Details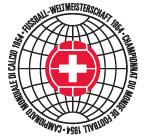 Details:
Host country:

Switzerland
Dates:
16-June-1954 to 4-July-1954
Teams: 16
Tournament stats
Stages:
Qualification: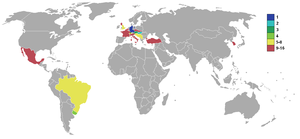 Countries qualified
Country failed to qualify
Countries that did not enter
Country not a member
Notes:
The quarter-final match between Austria and Switzerland saw a World Cup record of number of goals scored in a match, when the Swiss lost 5-7, after going 3-0 up.
First televised tournament.
To date (and unlikely to be beaten without rule changes), highest average goals scored per game.
Instead of a conventional round-robin where each team would play three matches, the seeded teams as well as the unseeded teams were spared from playing each other as the unseeded teams were squared up only against the seeded ones in a chance to qualify, so each team played only 2 group matches, unless tied for the second qualifying position by points, which required a play-off. Extra time was played for any games that was tied after 90 minutes, with the result being a draw if the scores were still level after 120 minutes.
Top goal scorers:



Own goal scorers: