Home
> Tournament Details
Tournament Details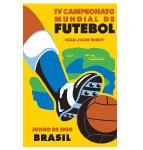 Qualification: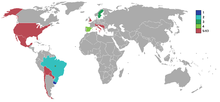 Countries qualified
Country failed to qualify
Countries that did not enter
Country not a member
Notes:
The 1950 World Cup was the only tournament not to stage a final tie, replacing knockout rounds with two group phases. 3 teams withdrew just before the tournament began. India withdrew because of the expense of travelling to Brazil (although some reports suggest it was because because FIFA would not let them play barefoot). Scotland withdrew as they were not British Champions (which was used to decide the top seed from the Britain). Turkey also withdrew for financial reasons.
Team Placing:
| Placing | Team | Starting ELO Rating | GF | GA | GD | Region |
| --- | --- | --- | --- | --- | --- | --- |
| 17 | Bolivia | 1445 | 0 | 8 | -8 | CONMEBOL |
| 17 | Brazil | 1969 | 22 | 6 | +16 | CONMEBOL |
| 17 | Chile | 1599 | 5 | 6 | -1 | CONMEBOL |
| 17 | England | 2076 | 2 | 2 | 0 | UEFA |
| 17 | Italy | 1966 | 4 | 3 | +1 | UEFA |
| 17 | Mexico | 1826 | 2 | 10 | -8 | CONCACAF |
| 17 | Paraguay | 1877 | 2 | 4 | -2 | CONMEBOL |
| 17 | Spain | 1897 | 10 | 12 | -2 | UEFA |
| 17 | Sweden | 1972 | 11 | 15 | -4 | UEFA |
| 17 | Switzerland | 1709 | 4 | 6 | -2 | UEFA |
| 17 | Uruguay | 1736 | 15 | 5 | +10 | CONMEBOL |
| 17 | USA | 1580 | 4 | 8 | -4 | CONCACAF |
| 17 | Yugoslavia | 1818 | 7 | 3 | +4 | UEFA |
Top goal scorers:



Own goal scorers: